The Blogg
The Blogg is a pub and grill located in the center of Tunkhannock, PA. formerly known as Beagles, The Blogg has developed a new ambiance after extensive renovations with a lot more to come... This building has become a live music hot spot for our town. Bands originating from Scranton and further have booked shows here and arrived with a good following. We encourage new ideas and presenting different genres of music is a great way to show this. One night you might hear a solo on a Martin and the next week you might witness a keyboardist from an electronica band going ballistic on an Electribe EMX1. Stop in!
The Blogg is essentially two entities; one -

(in the back)

a pub style atmosphere with night food and monthly
entertainment covering various genres in the lower section, and two - a pool hall decorated like a Philly billiards
lounge with a shuffleboard table with variuous seating areas, I think everyone will find it welcoming.
We are open seven days a week, Monday - Thursday we open at 5PM, Friday, Saturday and Sunday at 3PM and mind you, while we are a non smoking establishment but do have an outside area where food and drinks can be enjoyed.
Then by day we have (in the front) a great breakfast and lunch place (the yearbook diner) well
know for decades as ...



The Breakfast Menu





The Lunch Menu
But that's not all (as they say at 2AM on TV) at the Yearbook Diner Thursday thru Saturday
we're now serving dinners from 5pm to 9pm...

The Evening Menu
Other side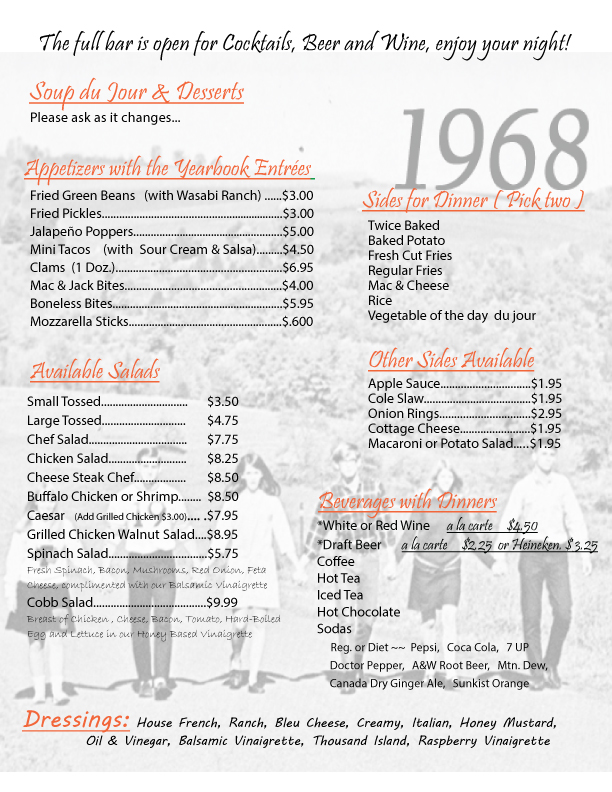 a bit of history
Tenths in the 20's, Green Goose in the 30's-40's, Crandles in the 50's -70's, Wagon Wheel in the 70's -to 90's, Beaglesfrom the 90's to 2014,
wow, for decades these names have been icons in the borough, offering many people great food and service. Now it is the

"Yearbook"

...

'The Yearbook' with its name and theme will be fun and take on a life of its own. We will serve the same menu and specials,
though some enhancements Melisa (our Kitchen Manager for the past 20 years) has up her sleeve will be added.
I am typically a person/contractor that changes the look of something under cover then unveils it, however that would not be
easy here as it would require closing for days on end and that will not happen...
I plan to work second and third shifts for all the big stuff and will quietly in the back-round during the day, so while you will see slight changes progressing,
know that I am consistently working towards the master plan/end result. My aim is creating a new and exciting place for us all.
I look forward to your continued patronage!
The Back




We to attract people wishing to play pool, watch sports or just congregate with friends, just a plain Ole' sensible relaxing day together..
Notices of entertainment and special event nights will be well posted and advertised.
If you wish to contact me (Carlos) personally or simply have some questions or suggestions your email is welcome! click here
_____________________________________________________________________________________________________________________________